I Have a DSLR Camera and I am not Afraid to Use It!
The title of this makes me laugh because I just got my camera a little over a month ago and am still learning. But thanks to an AWESOME ONLINE CLASS I am taking I am not afraid to use it. I love this class so much I had to share it with you! I don't want to use my blog to "push things" on you but, when I find something that works and makes things better, I have to share it! The teachers are smart, funny and really talk to me in a "camera language" I understand. So without further adieu, meet Josh and Kevin!
HA! You didn't think I had them at my house did you? LOL They are welcome but I doubt they will come over! Anyway, Josh and Kevin are the amazing photographers over at Shoot Fly Shoot. They are offering 2 classes right now and are working on more.
I signed up for Photography 101 (for beginners) and watched several videos that showed me step by step how to use my camera. It is amazing! I shoot in Manual and I understand ISO, Aperture, Shutter Speed, and Depth of Field like I never though I would. I knew some of this stuff before I joined this class but, Josh and Kevin made me feel comfortable and confident and now I shoot in Manual all the time. Their motto is, "Don't fear the M!" Thanks to them, I don't! They took the scary out of photography for me! THANKS GUYS!!
You might be saying you don't have time for classes or you can't afford it! Guess what! You can watch the 11 videos (YES 11 VIDEOS) whenever you want and as many times as you need until you are comfortable and confident! And guess what??? It is only $69!!! What a deal! This was a birthday present from my dad! It was the perfect gift and I will use it to take pictures of my family for years to come.
The 11 videos break down like this:
Exposure
ISO
Aperture
Shutter Speed
Metering
Lenses
Equipment
(Beginner) Interior Photography
(Beginner) Portrait Photography
(Beginner) Product Photography
(Beginner) Landscape Photography
UPDATE: I took this picture today and had to add it to this post. It is my favorite picture I have taken so far!! This little hummingbird landed in my flower garden and she let me take several pictures of her before she flew away! I am going to hang this one in my cookie room:)
Look at this simple picture of a few strawberries I took. I know it is not a picture of Matthew McConaughey but, I am happy with it. The guys showed me how to achieve the Bokeh (blur created by using a shallow depth of field) I wanted for my pictures. I think the blur makes the strawberries pop!
You can go to their home page and watch a video that will explain things better than I can. Just click the picture below.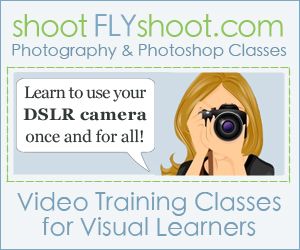 The other class I am taking is the Photo Shop Elements 10 and it is only $49. It will show you how to edit your photos once you take them. I have not finished that class yet but, so far so good. I finally understand most all of those buttons and that "Layer" thing that drove me crazy! I know by the time I finish, I will be able to edit my photos and be very proud of them. Now, I will still use PicMonkey because it makes me happy! I like the little monkey face and the way it tells me "Masterpiece Saved." I think Photo Shop needs a mascot to cheer us on. Maybe a cute little bear! Just a thought!
Anyway, if you are just starting your photography journey or have a DSLR camera you don't know how to use then, you need to check out Shoot Fly Shoot. It has totally changed the way I take pictures. This post is based upon my own experience from taking their classes. If you have any questions, please send me an email at lisa@thebearfootbaker.com. I can't wait until they have more classes available but, I am having a blast practicing what they taught me so far.
Happy Creating,